Surrounded by towering limestone peaks and a rolling sea, during the early 20th century this region was one of the prized assets of the Thai royal family. The current Thailand King still has a home here and sometimes visit during holidays. Hua Hin is the perfect location for a full-fledged holiday or a short respite from the rigors of city life. Most Thai's envisage this region as an elegant and romantic getaway holiday destination.
When you tour Hua Hin, you will see why the royals loved the city. Its close proximity to the ocean means several opportunities for fishing, swimming, and diving. Also, this area is home to some of the best seafood you will ever taste. You can stay in one of the resorts where your need is catered to or choose a modest accommodation and enjoy some delicious Thai food.
Hua Hin is a food heaven as you can also take a Thai cooking course and practice what you have learned on the food you buy at one of the street markets scattered all over the downtown area. If you have gone fishing during the trip, test out your new skills on some of your bounties from the sea.
Head for Sam Roi Yof National Park to have a taste of the gorgeous natural surroundings. This park is home to great caves, great tracts of marshlands, and quiet beaches. There is also the Kuha Karuhas Pavilion which is a small shrine located within the cavern of Phraya Nakhon. Visiting the Sam Roi Yof National Park will help you understand the role of spirituality in Thailand.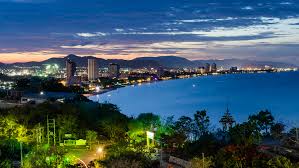 The Maruekhathaiyawan Palace is set on a manicured landscape fronting the Cha Am Beach. The candy-colored mansion consists of 3 one-story pavilions with over 1,000 pillars supporting them to prevent flood damage. As you approach the palace from afar, the sight against the backdrop of cerulean-blue sea and white sands conceive the image of a place suspended in time. The chambers and royal halls are today set up as a museum, decorated with framed vintage photographs and artifacts.
Cicada Market is all about good times, handmade crafts, and art. It has an open-air market concept and brings together different artistic talents from Hua Hin. Apart from the crafts market, you will also find live music, beer garden, and an art gallery. The market has 4 different sections: Art of Eating, Art of Act, Art Indoors, and Art a la Mode. Art of Eating is an open-air food court that enjoys an idyllic garden setting. You will find all kinds of savory stir-fries, deep-fries, salads, sweets, snacks, all the way to seafood barbecues, pasta, and steaks. Art a la Mode is dedicated to handmade accessories, home wear, decorative items, and clothes. The bulk of the sculpture, sketches, and paintings are for sale in Art Indoors.